I will be having some of my artwork at HQ Gallery this June. Come by see to the show and say hi to me if you are in the area.
See Map
We Are 3!

A three-year anniversary party featuring a floor to ceiling group art exhibition
Come celebrate with us at our annual massive group exhibition featuring the work by more than 25 different artists. Art will be covering the walls from floor to ceiling, with everything from screen prints and original paintings to photography and woodburnings, existing in perfect harmony.
The opening night is
Saturday June 6th
, 2009 from
6pm-11pm
. Music will be provided by our resident DJ Garry Vickers, drinks will be had and art will be coveted. Participating artists include:
Stella Im Hultberg
Tim Barnard
Rupert Bottenberg
Kristen N. Brown
Aya Kakeda
Jen Storey
James Kerr
Furni
Elaine Ho
Mimi Traillette
Matt M. Cipov
Scott Ferry
Fred Noel
Genevieve Jodouin
Sarah Guidon
And a whole heck of a lot more….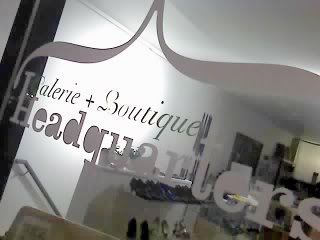 Headquarters Galerie & Boutique has been ushering in new artistic talent since June 1st 2006. Featuring new artist exhibitions once a month this 2 level galerie/boutique concept store aims to draw out the curious and reward the faithful. New clothing, accessories and homeware designers are added to the store roster often, and the contents of the store are constantly changing. Focusing on independent design from around the globe, the mix of art and product design meld in glorious harmony.